This page is the brochure for your selected program. You can view the provided information for this program on this page and click on the available buttons for additional options.
CSUF: Cal State D.C. Scholars Program (Spring)
Washington D.C., United States
(Outgoing Program)
Featured
Dates / Deadlines:
Dates / Deadlines:
There are currently no active application cycles for this program.
Program Type:
CSUF Department/Faculty-Led
Financial Aid:
Federal Aid (Pell/EOP/FSEOG/Direct Loans), HSS Study Abroad Scholarship, Private Student Loans, Program Scholarship, State Aid (Cal Grants/SUG)
Housing Options:
Residence Halls
Areas of Study:
All Graduate Programs, All Undergraduate Majors
Class Standing:
Graduate, Junior, Senior
GPA requirement:
3.00
Language of Instruction:
English
College:
College of Humanities & Social Sciences
Special Notes:
Students with lower GPAs but strong references & relevant experiences/activities encouraged to apply
CSUF Faculty:
Janssen, V.
Internship Opportunity:
Yes
CSUF: Cal State D.C. Scholars Program, Spring 2018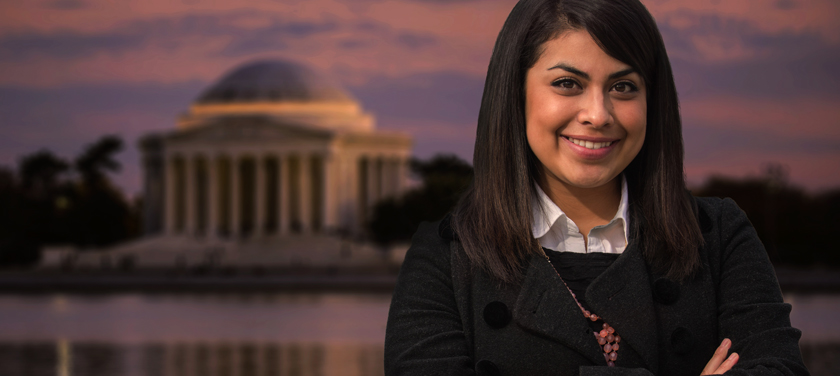 Since 2006, the Cal State DC program has offered students opportunities to study and intern in our nation's capital. Through our program students earn academic credit while interning in Washington. Internships can be with nonprofits, advocacy groups, congressional offices, executive agencies, museums, security firms, business groups, political parties, artistic organizations, news and media companies, and a variety of other offices in and around Washington, D.C. Juniors, seniors, and graduate students from ALL MAJORS are encouraged to apply. The program is neither partisan nor ideological and welcomes students from all political persuasions.
View a video for the Cal State DC program!



Program Highlights
Open to juniors and seniors in ALL MAJORS

Graduate students are eligible to participate!

Study and intern in our nation's capital

Tuition is the exact same as if you were taking the classes on the home CSU Fullerton campus

Financial aid is applicable to Spring program; Scholarships available on a competitive basis

Enroll in 12 units (including 6 internship units)

Congressional internships available

Courses are taught and supervised by CSU faculty

Housing available for reasonable prices and in convenient locations close to transportation, nightlife, and work locations
Below you will find information and links to additional information about the application process, the courses, internship opportunities, financial aid, and housing information. You will also find information about other services provided through this program like special networking receptions, a speaker series, and tours of interesting places during your summer stay.
Courses and Faculty
---
Through our program students will earn college credit on site in Washington, DC from courses taught and supervised by CSU faculty. These courses are designed to help students get the most out of their experiences while still progressing towards graduation. In the Spring Semester, students must enroll in 12 units, which include 6 internship units and two specially designed upper division courses that incorporate the culture, history, and professional networks available only in DC. Students must meet with their major advisor to discuss whether and how Cal State DC courses can be used to meet major requirements. All students may use the Cal State DC courses as general electives to meet the 120 unit requirement for a bachelor's degree. (Graduate students will be enrolled in a section of HUM 599 instead of POSC 322.)

Courses
HUM 495: Internship
POSC 498: Internship
POSC 322: Leadership for Public Service (GE D.5)
POSC 402: Cal State DC

Faculty
Congratulations to our 2018 Spring Cal State DC Residential Faculty:
Professor Volker Janssen

Professor Kathryn Buechel

Internship Opportunities
---
Opportunities for Students
There are many nonprofits, cultural centers, advocacy groups, political organizations, lobby firms, think tanks, and other organizations that offer internships. Opportunities are limited only by your imagination! We strongly encourage students to identify potential areas of interest and possible internship sites or organizations before applying, and to discuss their internship interests with an advisor in the Cal State DC Program.

Students interested in a DC internship should:
Attend an information session and application workshop

Apply online via the CSUF Study Abroad application portal

Meet with a Cal State DC advisor and your major advisor to complete the Cal State DC advising worksheet; submit the worksheet as an attachment to your online application

Develop a list of internships that interest you

Check internship application due dates

Draft a cover letter, resume, and obtain letters of recommendation

Submit applications to internship offices
Through the work of many at CSUF and the support of our alumni network here and in Washington, we have developed relationships with a number of internship offices. CSU Fullerton students who are interested in exploring these opportunities should contact the Cal State DC office at dcinterns@fullerton.edu to discuss such opportunities.
Opportunities in Congressional Offices
Applications and information about Congressional internships are available at the web pages of each individual member. Senate web sites can be found at www.senate.gov and U.S. House web sites can be found at www.house.gov. Members of Congress prefer students from their districts but do take students from all over the country, with no party affiliation, and even students from the other party. If you have questions about applying contact the internship coordinator for that office or the Cal State DC office.
Examples of past Internships by College
The Arts

Ford's Theater

Sirius Satellite Radio

Kennedy Performing Arts Center

PBS & NPR

Business & Economics

Import/Export Bank

NPR Finance

Center for Economics Justice

Communications

Fox News DC

CNN

National Geographic

Washington Post

Education

U.S. Department of Education

White House Initiative for Hispanic Excellence in Education

Achieving the Dream

Engineering & Computer Science

NASA

Imagine One Technology and Management

Aerospace Industries Association

Health & Human Development

American Red Cross

The One Campaign

U.S. Department of Health and Human Services

Humanities & Social Sciences

National Coalition for the Homeless

U.S. Congress

Secret Service

Smithsonian Museum

Natural Science & Mathematics

Earth Day Network

National Oceanic and Atmospheric Administration
Housing
---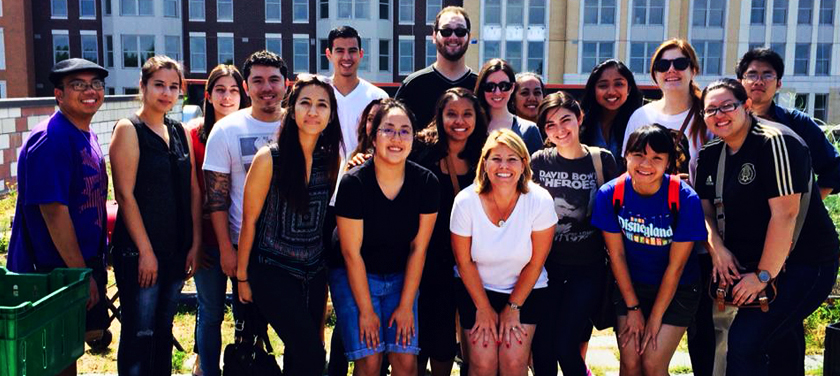 Short term housing is an expensive proposition in Washington, D.C. Our program has negotiated group discount rates to help offset the cost for students participating in Cal State DC. In addition, the College of Humanities and Social Sciences subsidizes the cost of housing to keep it as low as possible. It is important to us that as many students as possible have the opportunity to intern in DC!

Student housing is contracted through an organization that provides housing for interns from all over the country and all over the world. You will be housed with other Cal State students and be able to enjoy special networking events sponsored by the housing agency and will include people from various career paths in DC. The residential experience of living with and near interns from many different schools adds to the overall DC Internship experience..

We negotiate a contract with the WISH Housing offices which has housing available for reasonable prices and in convenient locations close to transportation, nightlife, and work locations for where many of you will intern.


Costs & Financial Aid
Program costs can vary based upon personal preferences. The primary costs include tuition, room and board, and transportation to and from DC. Housing for the Spring Semester is approximately $4000. Tuition is the exact same as if you were taking the classes on the home CSU Fullerton campus. Airfare runs approximately $450 for a round trip ticket. For more details, see the student budget sheet for this program.

Similar programs often charge thousands of dollars more. Student should contact dcinterns@fullerton.edu for exact information about costs and about available scholarships and financial support. Although financial assistance is available, interested students are encouraged to prepare and save for such a program and treat it as an investment in their futures.

Financial aid is available on a competitive basis to CSU Fullerton students through our program. Students with majors and minors in the College of Humanities and Social Sciences are encouraged to apply for the Experiential Learning Scholarship. Other students should investigate scholarship opportunities available through their own academic College (Arts, Business, Education, Health and Human Development, Communications, Engineering and Computer Science, and Natural Science and Mathematics).



Application, Deadlines & Information Sessions
---
Program Requirements
The Spring Cal State DC program is open to all CSUF students in good standing. Typically, students must have attained Junior standing (60 earned units) prior to enrolling for Cal State DC classes. Normally a 3.0 GPA is required for admission to the program. However, students with lower GPAs are encouraged to apply if they also have strong references and relevant experiences and activities.

Application Deadline
Applications for Spring 2018 are accepted on a rolling basis, but students are encouraged to apply as early as possible. If students want to be considered for financial assistance, they must apply by Monday, September 18th 2017. Students who apply after this date, may be placed on a waiting list. Please consult with the program staff concerning available space in the program for late applicants.

Important Reminder
This application is only for the Cal State DC Internship Program. By completing this application, students are eligible for inclusion in our program and will be considered for financial aid through our fellowship program. This application is NOT for an internship or for other scholarships or financial aid. If accepted into the program, students must::
work with our faculty and staff to secure a DC Internship

register for the appropriate courses
For assistance in obtaining an internship contact the program at dcinterns@fullerton.edu

Applications will be reviewed by the Program Director and program staff. Files are evaluated based on GPA, letters of recommendation, writing ability, and extra-curricular activities. Acceptance into the program will be determined on a rolling basis and decisions about financial assistance will be announced in November for spring semester.


Cal State DC Spring 2018 Application and Information Sessions


| | | |
| --- | --- | --- |
| Date | Room | Time |
| Wednesday, August 23rd | H-113 | 12:00 pm - 1:00 pm |
| Thursday, August 24th | H-113 | 5:00 pm- 6:00 pm |
| Monday, August 28th | H-113 | 12:00 pm- 1:00 pm |
| Tuesday, August 29th | H-113 | 11:30 am - 12:30 pm |
| Wednesday, August 30th | H-113 | 5:30 pm - 6:30 pm |
| Thursday, August 31st | H-113 | 2:30 pm - 3:30 pm |
Contact
---
Owen Holmes, Director
oholmes@fullerton.edu

Dr. Volker Janssen, Faculty Director Spring 2018
vjanssen@fullerton.edu

Jaycee Cover, HSS Experiential Learning Specialist
jcover@fullerton.edu

Program Email
dcinterns@fullerton.edu