Announcements
> ATTENTION Pell Grant Recipients - GILMAN SCHOLARSHIP OPPORTUNITY
Announcement: ATTENTION Pell Grant Recipients - GILMAN SCHOLARSHIP OPPORTUNITY
Event Date: 09/15/2017
Learn more about applying for the Gilman Scholarship for study abroad students.  Pell Grant recipients may be eligible to apply for this award.  Learn more at the upcoming information sessions!

Location: UH-242

Dates/Times: Friday Sept. 15, 9-10 am  &  Tuesday Sept. 19, 3-4 pm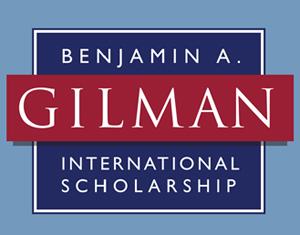 What is it?:

The Gilman Scholarship Program broadens the student population that studies and interns abroad by supporting undergraduates who might not otherwise participate due to financial constraints. The program aims to encourage students to study and intern in a diverse array of countries and world regions. The program also encourages students to study languages, especially critical need languages (those deemed important to national security and diplomacy). By supporting undergraduate students who have high financial need, the program has been successful in supporting students who have been historically underrepresented in education abroad, including but not limited to first-generation college students, students in STEM fields, ethnic minority students, students with disabilities, students attending HBCUs or other minority-serving institutions, students attending community colleges, and students coming from U.S. states with less study abroad participation. Full program overview, found HERE!



Who is Eligible?:

To be eligible for a Gilman Scholarship, an applicant must:
Be a citizen of the United States;
Be an undergraduate student in good standing at an accredited institution of higher education in the United States (including both two-year and four-year institutions);
Be receiving a Federal Pell Grant or provide proof that he/she will be receiving a Pell Grant during the term of his/her study abroad program or internship;
Be in the process of applying to, or accepted for, a study abroad or internship program of at least two weeks for community college students and four weeks for students from four-year institutions, in a single country and eligible for credit from the student's home institution. Proof of program acceptance is required prior to award disbursement;
Be proposing to study in a country not currently under a Travel Warning issued by the United States Department of State* or otherwise determined ineligible for program participation.
What is Required?:

A complete Gilman Scholarship application consists of
Online student application

Which includes two essays

Uploaded official transcript(s) into application
Online Study Abroad Advisor certification

Study Abroad Advisors will be asked to verify that you are applying to a credit-eligible study abroad program, whether you have previously studied abroad before and confirm your study abroad program information.

Online Financial Aid Advisor certification.

Financial Aid Advisors will be asked to verify whether you are currently receiving a Federal Pell Grant and the estimated amount of financial aid, excluding loans, you can apply to your program.
For tips on writing strong Gilman essays:



Applicants are also strongly encouraged to work with the CSUF Writing Center in order to strengthen their essay content.

Where and When Can I Apply?:

The application is managed through the Institute for International Education and the application is found HERE!

Deadlines will vary based on your application cycle. For the most up-to-date deadlines and timelines, click HERE!

Gilman Scholarship - it transforms lives!







Gilman on Social Media:

Instagram

Twitter